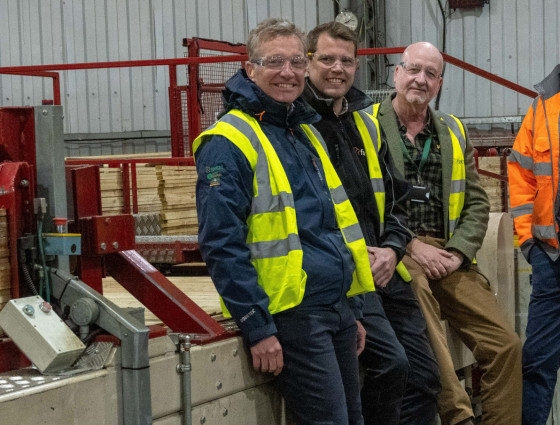 How Worcestershire national fence manufacturer tackled competition from imports
- And received King's Award for Innovation
Published date Thursday, 11/05/2023 - 12:00
Forest Garden are part of the Forest Garden Group whose operations across Worcestershire and Scotland include sawmills and manufacturing plants.
With the tag line 'Making British Gardens Great' the products are sold online and in over 3,000 retail stores across the UK.
Like many British manufacturers Forest Garden were faced with competition from imports. In addition, they needed to respond to the UK storm-driven surges in fencing demand.
To resolve this, the Forest Garden team rose to the challenge and came up with a revolutionary innovation. They automated their traditional manufacturing process whilst retaining the quality of the British wood products and local jobs.
The British manufacturing innovation has reduced the panel production time by almost 70%, and improved production margins. In addition, their UK-sourced and manufactured products now compete with imports and meet the rise in UK demand.
Forest Garden employs over 750 staff over 3 sites in Hartlebury, Clows Top and Lockerbie. Due to its central UK location, the Worcestershire manufacturing operation provides the all-important access to road networks which benefits their national distribution chain.
Guy Grainger, Forest Garden CEO, shared what an honour it was to receive the King's Award for Enterprise in Innovation: 'The award recognises our world-first fully automatic high-speed fence panel manufacturing machine, which we started developing back in 2015. Our business has invested more than £2.5m into this project and has successfully reduced production time, improved quality, and enabled our UK-sourced and manufactured products to out-compete imported products. The King's Award is a testament to the determination of a great team who are still pushing the boundaries of manufacturing automation within our sector'.
Louise Hewitt, Deputy Lieutenant of Worcestershire who heads up the King's Awards for Enterprise on behalf of the Lord Lieutenant said 'This is a huge achievement for the team at Forest Garden and represents ground-breaking innovation within their industry. We know that winning this prestigious award opens doors, and acts as a magnet for the talent every business needs for sustained growth. Their focus on innovation will undoubtedly see their business flourish and remain at the forefront within the UK market'.
Information about the King's Award for Enterprise: The King's Awards for Enterprise: About the awards - GOV.UK