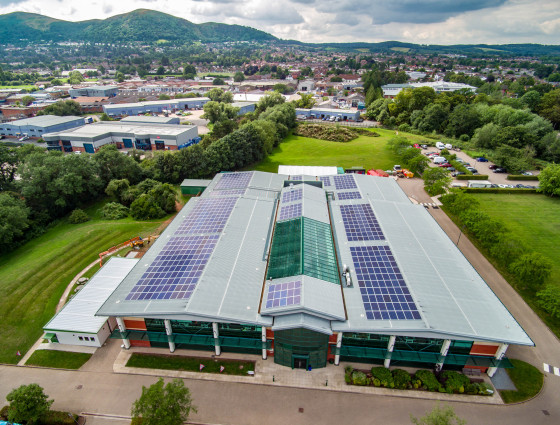 Malvern Panalytical invest in building a sustainable future
By Isla Buchanan, Strategy Program Director at Malvern Panalytical, Worcestershire
September 2023
Our tagline is 'We're Big on Small'
We're committed to Net Zero across our entire value chain by 2040
MALVERN, Worcestershire - Malvern Panalytical makes the scientific instruments that help our customers build a cleaner, healthier and more productive world: from proteins, metals and polymers to the soil beneath our feet and the air we breathe! 
We describe ourselves as a bunch of visionaries, engineers, and creative thinkers behind the design of some of the world's leading scientific instruments and analytical systems.
Malvern Panalytical's strategy is to invest in building a sustainable future through empowering, engaging, and inspiring collective action across our entire value chain. From customers and suppliers to employees – we are all committed to sustainability through our values and our focus on science-based targets.
Our investment is paying off. Following our accelerated start in 2020, we're well on our way to reducing absolute Scope 1 and 2 emissions (in our own operations) by 85% to achieve Net Zero by 2030.  We will meet our target for reducing Scope 3 emissions (in our value chain) by 42% by 2030 and plan to achieve Net Zero by 2040.  
We're experts in understanding how to measure the small stuff that has a big impact on growth, technology, and innovation.
- From breakthroughs in energy solutions and nanomaterials, to innovations in healthcare, the environment and food.
Malvern Panalytical is part of the Spectris Group. In 2020, we accelerated our commitment to become a fully-sustainable company. Partnering with the international climate consultancy EcoAct enabled us to set benchmarks and plan a roadmap to become Net Zero across our entire value chain by 2040. 
 
Today, many of the world's biggest companies, universities, and research organisations share the same common aims regarding sustainability, so it's important that we lead by example. 
Our commitment to Net Zero science-based external validations 
Our commitment to become Net Zero by 2040 is underpinned by external validations throughout our journey. These include Science Based Targets initiatives (SBTi), the Taskforce on Climate-related Financial Disclosure (TCDF), RE100 (100% renewable electricity by 2030) and EV100 (fully electric fleet by 2030) by The Climate Group, and ISO 14001 (we have been zero waste to landfill since 2007).
We aim to become a leader in sustainable procurement by working with sustainable suppliers. We partner with EcoVadis, the world's largest business sustainability ratings company. In 2023, our Dutch operations achieved an EcoVadis silver rating and our UK operations received a bronze rating.  We're aiming even higher for 2024.
Malvern Panalytical's UK headquarters is in Malvern, Worcestershire
For more information about Malvern Panalytical: Malvern Panalytical | Analytical Instrumentation
About Worcestershire - A great place to live, work, learn, visit, and invest
Worcestershire has a thriving business base, an ecosystem dedicated to innovation, and is a fantastic tourist destination. Malvern is home to the famous Malvern Hills Area of Outstanding Natural Beauty, The Malvern Hills Science Park, The Morgan Motor Company and Worcestershire's award-winning technology start-up accelerator BetaDen. 
Image above: Solar panels on the rooftop of Malvern Panalytical's UK headquarters located at the Enigma Business Park in Malvern, Worcestershire.